Over 20 Years of Experience and Expertise
Having started its activities in the envelope industry in 1994, Doğan Zarf San. Tic. Ltd. Şti. has become the leading company of the industry by committing to its quality product and service approach, developing its product technology and product range with innovative solutions and offering innovative and sustainable solutions.
Acting with "The guarantee of success and sustainability is trust and quality" as a principle, it works for becoming a world leader approaching its target of reaching the same success it has in Turkey all around the world.

Where are we?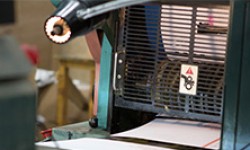 We provide our services in Turkey and 35 countries of the world with our increasing production volume and flexible and quick production band. Today, Doğan Zarf has become one of the leading companies of its sector by creating a strong and wide exportation network with national capital.

R&D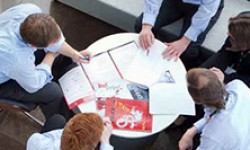 Due to the importance it attributes to its work, Doğan Zarf consistently remains updated about the developments in the industry and conducts R&D activities in line with global trends and new Technologies. As a result of these activities, we can produce special and leading products such as water resistant envelopes, fire resistant envelopes, personalized envelopes (that can only be opened once).

Certificates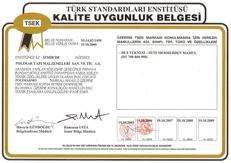 Quality Assurance Certificate
22.11.2010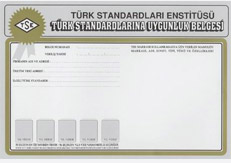 Certificate of Conformity to Turkish Standards
10.10.2011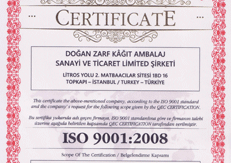 ISO 9001:2008 Certificate
22.03.2016